BASE TREATMENT
ACNE PRONE SKIN
MATT EFFECT CORRECTION
Azeloglycine®
Flavocare®
Lactobionic acid
Ideale in caso di pelle a tendenza acneica e pelle mista/impura
Corregge imperfezioni e produzione sebacea alterata
Effetto matt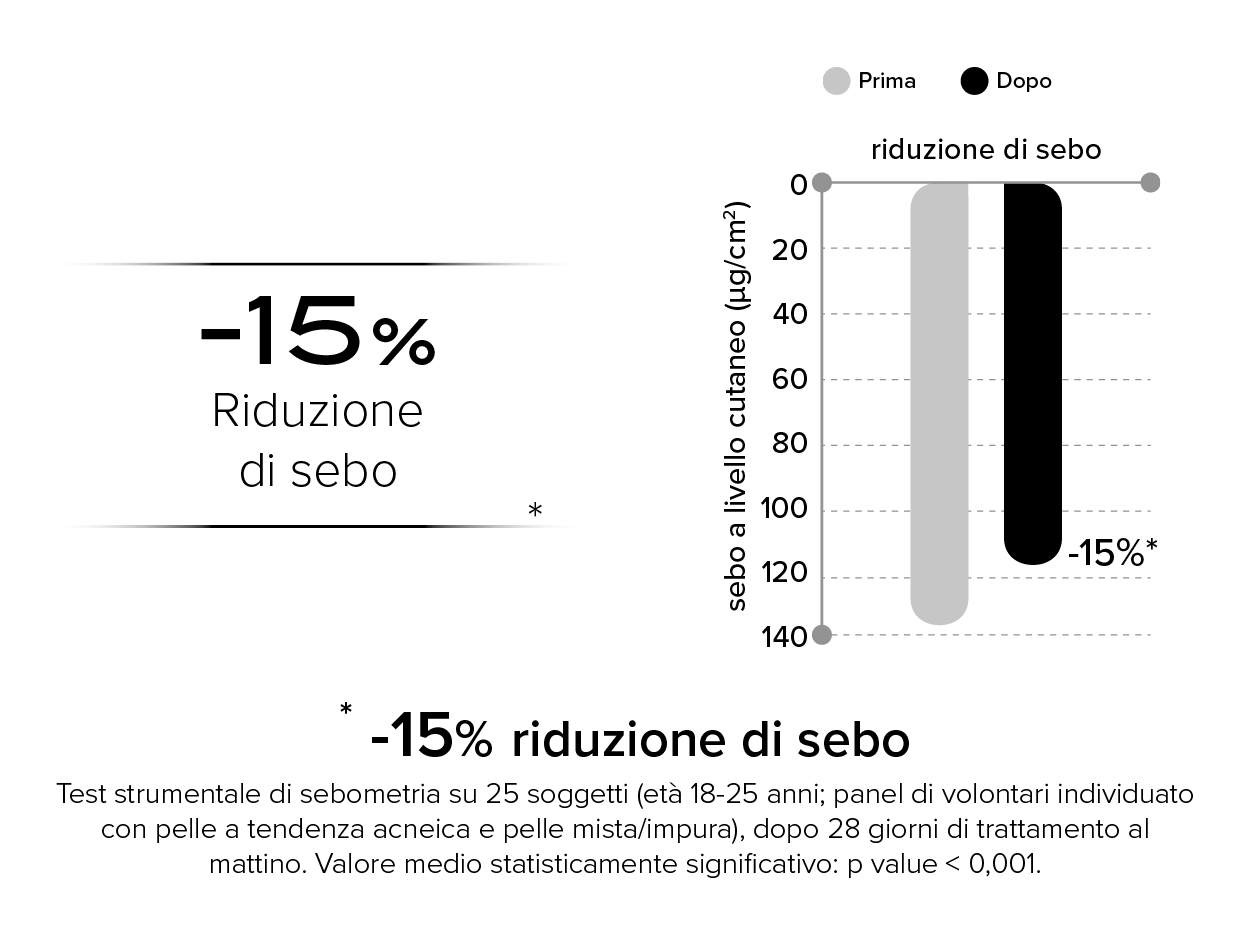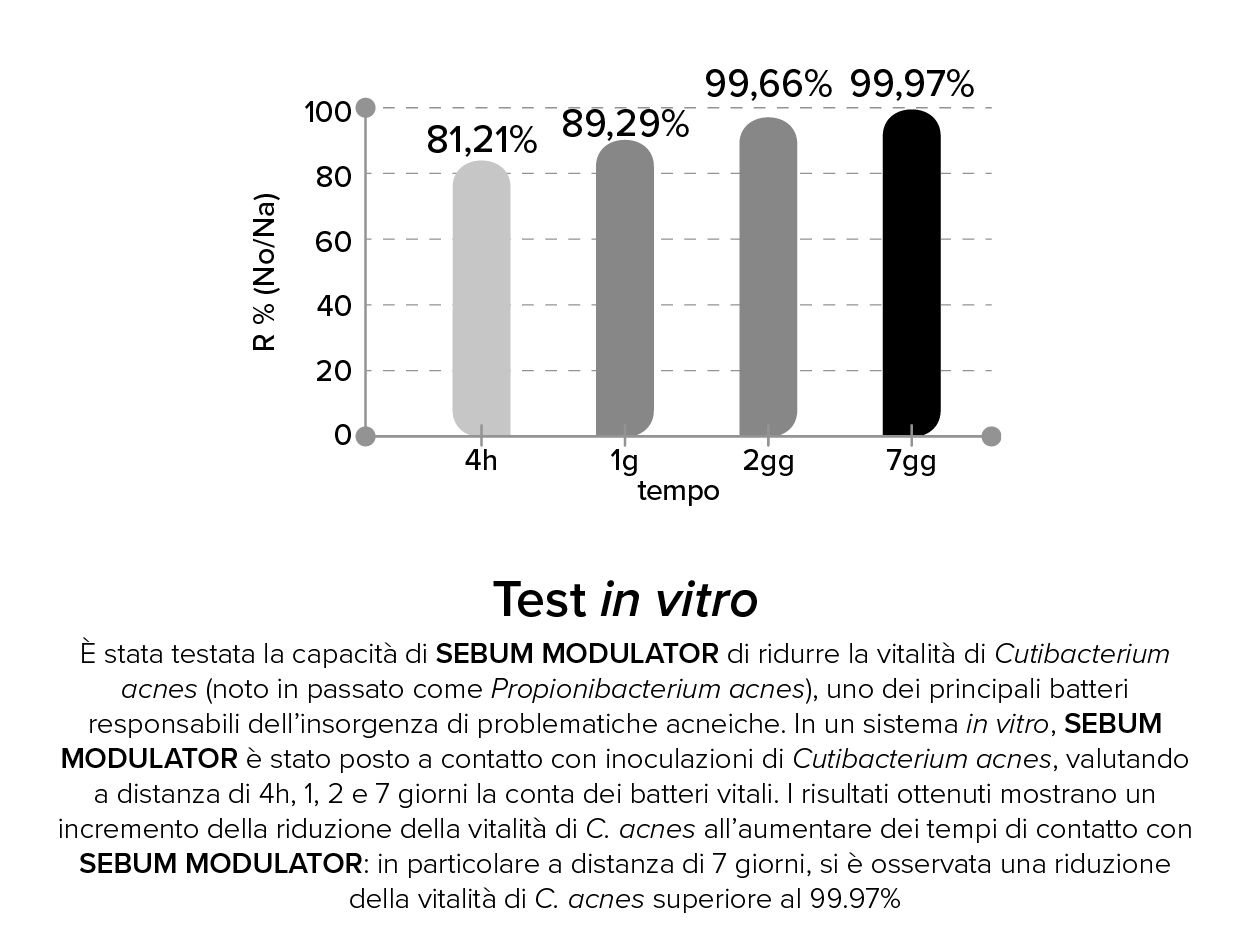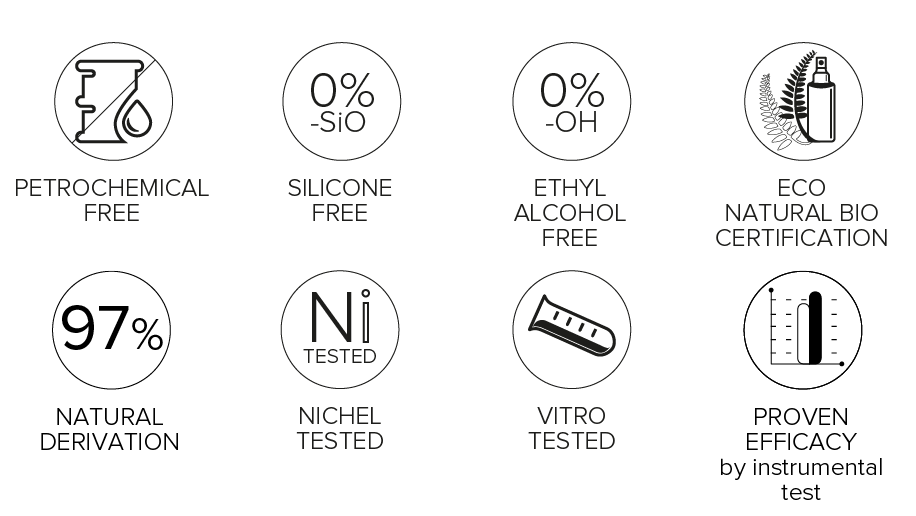 30 ML
Airless bottle, made of recyclable material
Other information
Trattamento correttivo sebonormalizzante per pelli con un'alterata produzione sebacea. Emulsione fluida a rapido assorbimento contenente ingredienti ad azione riequilibrante che restituiscono uniformità e luminosità all'incarnato. SEBUM MODULATOR, è un trattamento base essenziale per giovani con pelle a tendenza acneica e mista/impura. Il suo utilizzo trova spazio nella skincare dedicata alla correzione delle imperfezioni, al riequilibrio della produzione sebacea, con un gradevole effetto matt finale. In evidenza la presenza di Azeloglicina®, attivo dalle spiccate proprietà sebonormalizzanti e schiarenti, adatto anche al miglioramento dell'aspetto di eventuali macchie, e NIACINAMIDE, vitamina ad azione seboregolatrice, inserita all'interno di un mix di vitamine e aminoacidi che agiscono sinergicamente sull'iperattività delle ghiandole sebacee. L'azione illuminante e uniformante è sostenuta anche dall' ACIDO LATTOBIONICO, alfa idrossiacido ben tollerato dalla pelle sensibile, che favorisce il rinnovamento cutaneo e protegge la pelle dallo stress ossidativo. Completano la formulazione Flavocare®, attivo ad azione antibatterica e RESVERATROLO, noto antiossidante. SEBUM MODULATOR è arricchito con la miscela GEMMALIFE® ottenuta a partire dall' ESTRATTO DI GEMME DI FRASSINO, consigliato in gemmoterapia per la sua azione depurativa.
Azeloglicina® è marchio registrato di Sinerga S.p.A.
Flavocare® è un marchio registrato di B-Natural srl.
Functional substances
Azeloglicina®, Niacinamide, Flavocare®, Acido lattobionico, Resveratrolo, Amido di mais.
GEMMALIFE®: estratti di gemme di Frassino.
Mode and Frequency of Use
MODALITÀ D'USO: Applicare SEBUM MODULATOR al mattino dopo la detersione, quindi massaggiare fino a completo assorbimento.
FREQUENZA D'USO: Si consiglia un uso quotidiano al mattino per almeno 1 mese di applicazione, sia in caso di pelle giovane a tendenza acneica, che di pelle mista/impura.
CONSIGLI D'USO: Il prodotto può essere usato anche in caso di pelle mista over 35, quando esiste l'esigenza di portare equilibrio alla produzione sebacea.
Ingredients and Cosmetic Evaluation
AQUA, CAPRYLIC/CAPRIC TRIGLYCERIDE*, GLYCERIN*, LACTOBIONIC ACID*, LAURYL GLUCOSIDE*, POLYGLYCERYL-2 DIPOLYHYDROXYSTEARATE*, POTASSIUM AZELOYL DIGLYCINATE*, XANTHAN GUM*, HYDROGENATED VEGETABLE OIL*, CETEARYL ALCOHOL*, TRIETHYL CITRATE, ORYZA SATIVA HULL POWDER*, NIACINAMIDE, PYRIDOXINE HCL, PROPOLIS EXTRACT*, PANTHENOL, HYDROLYZED YEAST*, RESVERATROL*, FRAXINUS EXCELSIOR LEAF EXTRACT*, PROPANEDIOL*, MAGNESIUM ALUMINUM SILICATE*, ZEA MAYS STARCH*, PARFUM, BENZYL ALCOHOL, SODIUM BENZOATE, DEHYDROACETIC ACID, GERANIOL°, CITRONELLOL°, EUGENOL°.
*Materia prima di origine naturale
°Naturalmente presente nella fragranza
Dermatologically tested with 96-hour patch test. Nickel tested (≤0.1 ppm).