ANTI-FREE-RADICALS FLUID FACE NECK DÉCOLLETÉ
Q10
Cassia seed polysaccharid
Serum with antioxidant action
The action of the active ingredients accompanies the skin towards regaining freshness, tone and vitality
Supports hydration and firmness of the face
Fast-absorbing oil-free formulation, 99% naturally derived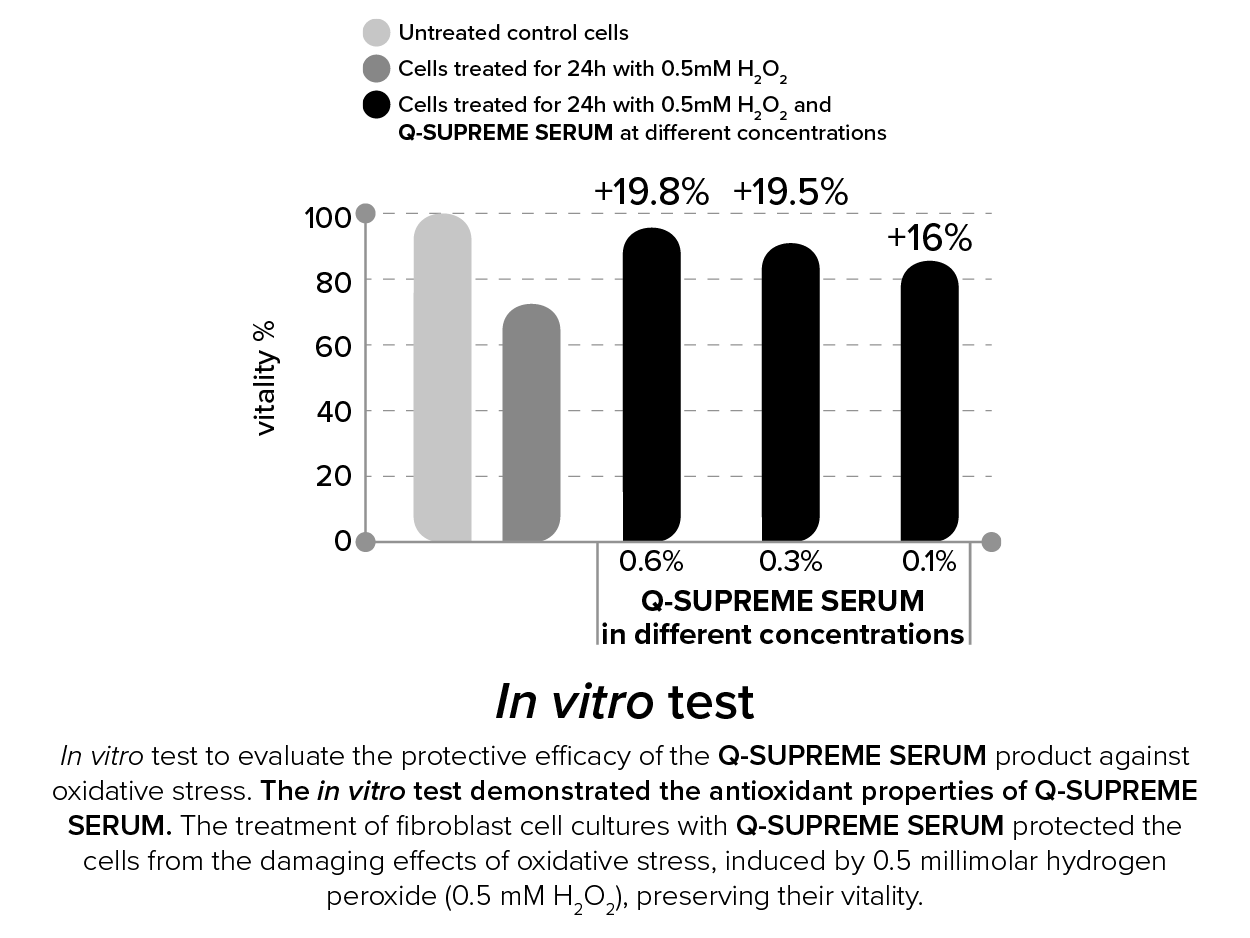 Other information
Q-SUPREME SERUM is a product rich in antioxidants necessary to hinder the attack of free radicals at the level of skin cells, thus supporting a general anti-aging action: RESVERATROL, COENZIME Q10, VITAMIN C, THE EXTRACT OF MARITIME PINE, GINKGO BILOBA and MELOGRAN represent undoubtedly valuable ingredients. ALOE EXTRACT softens the skin while VEGETABLE PROTEIN HYDROLYSATE and CASSIA ANGUSTIFOLIA POLYSACCHARIDES are a valuable plant alternative to hyaluronic acid to intensify overall hydration. THYAMINE, VITAMIN B2 and PROVITAMIN B5 support energy metabolism and cell renewal. The GEMMALIFE® blend is obtained from the GIGAN SEQUOIA, BLACK RIBES and LEMON GEM EXTRACTS, known in gemmotherapy to counteract aging processes and possible hypersensitivity situations.
Functional substances
Cassia angustifolia polysaccharides, Plant protein hydrolysate, Resveratrol, Coenzyme Q10, Vitamin C, Maritime pine extract, Ginkgo and Sage extract, Pomegranate and Damascene rose active water, Thiamine, Vitamin B2, Provitamin B5, Aloe extract, Sweet orange active water

GEMMALIFE® Bud extracts of: Giant Sequoia, Blackcurrant, Lemon
Mode and Frequency of Use
METHOD OF USE
After cleansing, pat Q-SUPREME SERUM on face, neck and décolleté until completely absorbed.


FREQUENCY OF USE:
Daily use is recommended morning and evening


USAGE TIPS:
- during summer periods, it can be recommended as a single face product and make-up base: its light, non-oily texture justifies its exclusivity
- its antioxidant-rich formula is a valuable support both before and after sun exposure
- the application of Q-SUPREME SERUM as a base conveys the cream applied later, favoring its absorption: the result is a perception of lighter texture, particularly appreciable in the summertime.
Ingredients and Cosmetic Evaluation
AQUA, GLYCERIN*, CYAMOPSIS TETRAGONOLOBA GUM*, ALOE BARBADENSIS LEAF EXTRACT**, ROSA DAMASCENA FLOWER EXTRACT**, PANTHENOL, CASSIA ANGUSTIFOLIA SEED POLYSACCHARIDE*, PUNICA GRANATUM FRUIT EXTRACT**, CITRUS AURANTIUM DULCIS PEEL EXTRACT**, SALVIA OFFICINALIS LEAF EXTRACT**, HELIANTHUS ANNUUS SEED EXTRACT**, GINKGO BILOBA LEAF EXTRACT**, HYDROLYZED VEGETABLE PROTEIN*, SEQUOIADENDRON GIGANTEUM BUD EXTRACT*, RIBES NIGRUM BUD EXTRACT**, PINUS PINASTER BARK EXTRACT*, CITRUS MEDICA LIMONUM EXTRACT**, RIBOFLAVIN, UBIQUINONE, THIAMINE HCL, RESVERATROL*, SODIUM ASCORBYL PHOSPHATE, LONICERA CAPRIFOLIUM EXTRACT*, LONICERA JAPONICA FLOWER EXTRACT*, CITRIC ACID, PARFUM***, BENZYL ALCOHOL, DEHYDROACETIC ACID, SODIUM BENZOATE, POTASSIUM SORBATE, PHENOXYETHANOL, ETHYLHEXYLGLYCERIN, LIMONENE°, GERANIOL°, LINALOOL°.
*Raw material of natural origin **Certified organic raw material ***Fragrance compliant with ICEA °Naturally present in the fragrance
Dermatologically tested with 96-hour patch test. Nickel tested (≤0.1 ppm)